LIST OF SPRINKLER / IRRIGATION SERVICES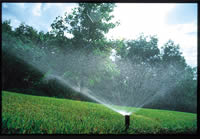 Peakview Irrigation is a full service sprinkler maintenance company. Starting at the Beginning of the irrigation season with a spring turn-on service, continuing throughout the season with needed repairs, installations and modifications and water saving upgrades and finishing up the year with sprinkler blowouts/winterizations. We offer professional seasonal services.
SPRING SYSTEM TURN-ON / ACTIVATION
We offer our Spring turn-on service which includes turning on your system and inspecting your entire system zone by zone while making minor adjustments to adjustable heads and setting your controller clock for the season. At this time we will report any issues we notice with your system and either repair the items at your request or schedule a repair.
During the season you may experience problems with your sprinkler system from a minor leak to total system failure. Peakview Irrigation offers complete system maintenance on all residential and commercial irrigation systems. Trust the professionals with years of experience to troubleshoot and repair your sprinkler system.
SPRINKLER BLOWOUT / RENOVATION
Don't void your warranty, waste your investment, or set yourself up for costly repairs in the spring by neglecting your sprinkler system! There is no question that leaving water in your sprinkler lines and components leads to freeze damage.  Don't risk your investment. Peakview Irrigation will drain your main water tap and vacuum breaker, and blow out the main manifold and each of your lines and heads with a high CFM (air volume) TOW BEHIND compressor, NOT A HOME COMPRESSOR (LOW CFM). 
 Don't trust a fencing, concrete or construction company with your sprinkler system. Call the professionals that install and maintain irrigation systems year rounD
WATER WISE SYSTEM UPGRADES
Specializing in Smart irrigation, we can install or upgrade existing systems components to save both money and water. Some upgrades are eligible for rebates from Colorado Springs utilities. Peakview Irrigation offers complete modification/renovation of aging or damaged systems. We can modernize your existing system water saving smart irrigation components. We can renovate systems with extensive damage from winter freeze damage, pets or landscaping activities are our specialty.
We specialize in long lasting triple coverage designs with high grade materials and modern water saving components like efficient wifi enabled smart controllers.
FREE SPRINKLER REPAIR ESTIMATES
 Peakview Irrigation provides Free estimates for most repairs and system upgrades please click below to find out how to receive a free estimate