PEAKVIEW IRRIGATION INSTALLS WATER WISE IRRIGATION COMPONENTS.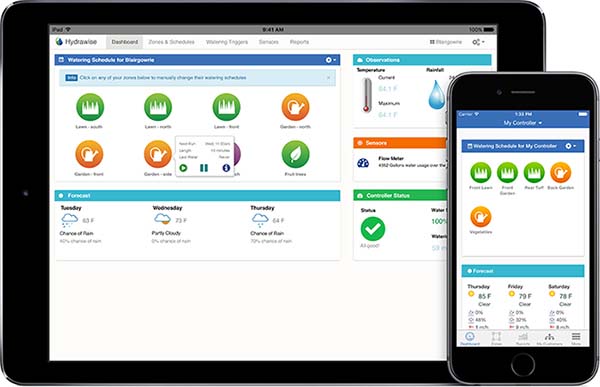 WATER WISE SOLUTIONS BY PEAKVIEW IRRIGATION
WATER SAVING SPRINKLER COMPONENTS
SMART IRRIGATION UPGRADES
RELIABLE EFFICIENT SPRINKLER HEADS SAVE WATER AND $
MODERN ROTOR HEADS CAN BE 50-100% MORE EFFICIENT WITH 

RAIN CURTAIN SPRAY AND ENHANCED SEALS 

OPTIONAL CHECK VALVES CAN PREVENT RUNOFF AFTER SYSTEM SHUTS OFF ON SLOPES

REPLACEMENT OF WORN OUT HEADS CAN IMPROVE ZONE PRESSURE, TURF / LANDSCAPE HEALTH AND SAVE WATER
REPLACING TURF AREA WITH XERISCAPING
REDUCTION OF LANDSCAPE MAINTENANCE  

WATER AND MONEY SAVINGS THROUGH ZONE MODIFICATION FROM TURF TO DRIP IRRIGATION
DROUGHT TOLERANT LANDSCAPING
FLOW MONITORING CAN MEASURES ACTUAL FLOW IN SYSTEM INCLUDING: HIGH AND LOW FLOW ALERTS, LINE LEAK / BREAK DETECTION, WATER OUTAGE DURING IRRIGATION, TOTAL USE REPORT BY ZONE *
ACTUAL LOCAL WEATHER STATION SYNC  *
*REQUIRES SMART CLOCK INTERFACE
WI-FI IRRIGATION CONTROLLERS
MANAGE YOUR SPRINKLER SYSTEM SYSTEM FROM ANYWHERE IN THE WORLD WITH YOUR SMART PHONE
WATER SAVING THROUGH REAL TIME WEB BASED WEATHER MONITORING (WEATHER UNDERGROUND), AUTOMATICALLY ADJUST WATER SCHEDULES BASED ON LOCAL WEATHER CONDITIONS. SYSTEM CAN ADJUST WATER FREQUENCY BASED ON ACTUAL EVAPORATION AND RAINFALL IN YOUR AREA ON A DAY TO DAY BASIS
ENHANCED SCHEDULE MODULES LIKE CYCLE N SOAK THAT ALLOW MORE INTELLIGENT / EFFICIENT WATERING SCHEDULES 
PROTECT YOUR LANDSCAPE WITH REAL TIME ALERTS SENT TO YOUR SMART PHONE WHEN ISSUES OCCUR WITH YOUR SPRINKLER SYSTEM
 SYSTEM LOGS TO LET YOU KNOW EXACTLY WHAT YOUR SYSTEM HAS DONE AND ANY FAULTS IN WIRING
ADVANCED REPORTING TO MONITOR WATER USE AND SAVINGS
ABILITY TO MERGE SPRINKLER SYSTEM AND OUTDOOR LIGHTING CONTROLS IN ONE CONVENIENT SMART PHONE APP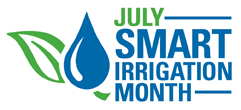 ADDITIONAL MONEY SAVINGS THROUGH REBATES FOR WATER WISE UPGRADES
COLORADO SPRINGS UTILITIES CURRENTLY OFFERS REBATES ON WATER SAVING INSTALLATION / UPGRADES OF SPRINKLER COMPONENTS INCLUDING CONTROLLERS, HEADS, CONVERSION OF TURF ZONE TO DRIP ZONE AND SENSORS. SEE CSU WEBSITE FOR DETAILS.
*COLORADO SPRINGS UTILITIES CHANGES DETAILS AND OFFERS WITHOUT NOTICE, IT IS UP TO THE HOMEOWNER TO KNOW WHAT IS CURRENTLY OFFERED. 
**COLORADO SPRINGS UTILITIES REBATE FUNDS ARE LIMITED AND CAN RUN OUT AT ANY TIME. PEAKVIEW DOES NOT PROMISE OR GUARANTEE ANY REBATE. 
***ALL RESPONSIBILITIES FOR OBTAINING REBATES ARE WITH THE HOMEOWNER. PEAKVIEW WILL PROVIDE AN INVOICE WITH ALL DETAILS REQUIRED BY UTILITY COMPANY AFTER INSTALLATION OF COMPONENT(S). REBATES ARE PAID TO HOMEOWNER IN THE FORM OF CREDIT ON UTILITY BILL AND ARE THEREFOR NOT AVAILABLE FOR LANDLORDS WHO DO NOT PAY UTILITY BILL.